Ivory Coast election: Alassane Ouattara wins second term
Ivory Coast's President Alassane Ouattara has won a second five-year term with nearly 84% of the vote, electoral commission officials say.
Mr Ouattara won a total of 2,118,229 votes, or 83.66% of votes cast, the commission said. Turnout was 54.63%.
Several opposition candidates pulled out of the campaign, complaining that it was not free and fair.
The last vote in 2010 was bitterly contested and resulted in a civil war in which 3,000 people lost their lives.
Mr Ouattara required more than 50% of the vote to avoid a run-off. His closest opposition rival, Pascal Affi N'Guessan, got just 9%.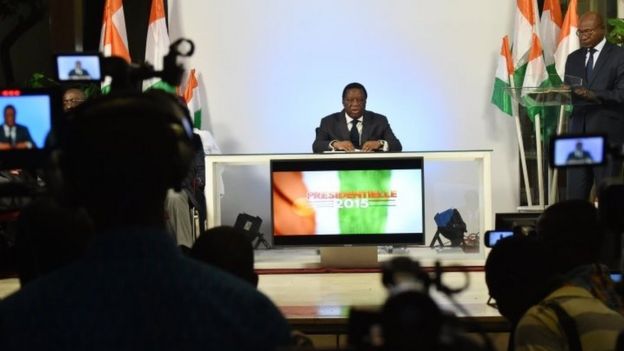 In the 2010 vote Mr Ouattara defeated then-President Laurent Gbagbo, whose refusal to step down triggered months of violence in which thousands of people were killed.
Mr Ouattara's campaign this year centred around his economic programme. Critics accused him of failing to foster reconciliation or reduce poverty.
The 54% turnout was down from the 2010 first-round turnout of about 80%.
Source: BBC