Chad's Hissene Habre removed from Senegal court
Chad's former President Hissene Habre has been removed from the courtroom at his trial for crimes against humanity.
He shouted that the process was "a farce", as he was waiting for proceedings to begin.
The trial in Senegal's capital, Dakar, marks the first time one African country has prosecuted the former leader of another.
Mr Habre denies being responsible for hundreds of deaths during his rule from 1982 to 1990.
The trial follows a 25-year campaign to bring him to justice.
Many of Mr Habre's alleged victims have been calling for it since his overthrow and exile in Senegal in 1990.
Parallels were later drawn with the attempts to get the former Chilean military leader Augusto Pinochet extradited and put on trial for crimes against humanity in Spain in 1998.
Mr Habre does not recognise the court and was brought there by prison guards.
Waiting for the trial to open, the former Chadian leader shouted: "Down with imperialists. [The trial] is a farce by rotten Senegalese politicians. African traitors. Valet of America".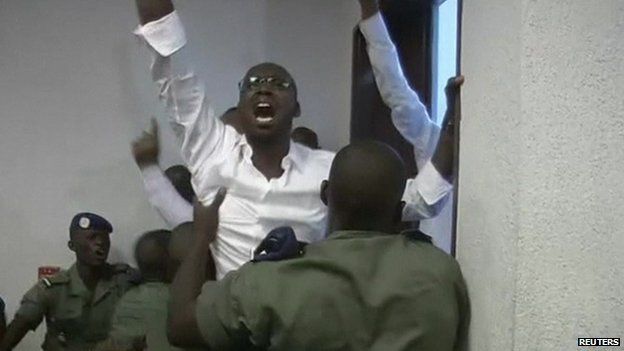 Mr Habre was taken out of the courtroom and the trial began without him.
He then refused to come in after the break that followed the opening statements, and the trial has been suspended until Tuesday when the judges ordered that Mr Habre would be forced to attend.
Source: BBC